Gerard Way Concert
*Revised on May 25, 2015
On Wednesday, May 20th, 2015, I went to see Gerard Way in concert. Gerard Way is the former lead singer of the alternative rock band, now broken up, My Chemical Romance, who now tours with his band, The Hormones, with music from his new solo album, Hesitant Alien, released on September 24th, 2015. If you are interested, here are a couple songs by My Chemical Romance and a few off Way's solo album.
My Chemical Romance: Blood, Demolition Lovers, Fake Your Death
Gerard Way: Action Cat, Get the Gang Together, How It's Going to Be
Here are some pictures I and a friend of mine took at the concert

My Chemical Romance has been my favourite band for about two and a half years. Everything produced by the band is so artistic and meaningful, and the music itself it just absolutely incredible. Even though the output, as far as genre, is a bit different, the meaning is still there are the music is just as beautiful and full of meaning to me.
As well as loving Way as a musical artist, I am also a fan of his writing career, as he also writes comic books. Both of the comic book series, The Umbrella Academy, and, The True Lives of the Fabulous Killjoys, were very successful.


Image by wikipedia.org
<http://en.wikipedia.org/wiki/The_Umbrella_Academy>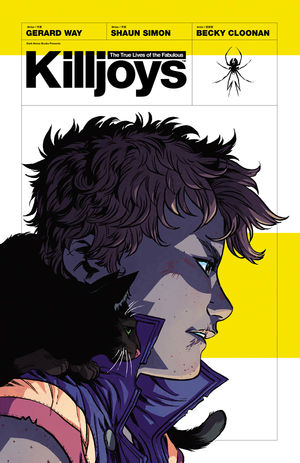 Image by michealminneboo.nl
<http://www.michaelminneboo.nl/2014/10/review-true-lives-fabulous-killjoys/>
Also, Way is just a lovely person. He's an amazing husband to his wife, Lindsey Way (bassist for Mindless Self Indulgence), a wonderful father to his daughter, Bandit Way, and an outstanding role model to all of his incredible fans. For one thing, he encourages his fans to live their lives and see more of the world and explore, something that many people are too afraid to do. Here is a short improvised song, from the show I went to, about travelling the world.
http://https://www.youtube.com/watch?v=5mzXiz_omPI
Way is also a major supporter of transgender and non-binary people (if you do not know either of those terms, you can look them up here). This means a lot to me, because I am also a major supporter of the LGBTQA+ and trans* communities, and they aren't talked about very often in the media or by celebrities, so the fact that he so actively supports them means the absolute world to me; he mentions his undying support and love for trans* people and allies at every show. Here is another video from the show I saw of Way talking about his support and his upcoming album.
https://www.youtube.com/watch?v=Zj6-790_KUA
As made obvious, Gerard Way cares so much for his fans for supporting him and giving him the opportunities he has had, and wants to give back to them as much as possible. One last example of his love for his fanbase is how he wants them to live their lives the best way they can. Along with raising awareness for trans* issues, he also demolishes stigmas on mental illness and encourages his audience to get the help they think they need. A simple Google search of, "Gerard Way saves lives" or "My Chemical Romance saved my life", will prove this well enough, but here is a video of Way speaking about mental illness, and performing a song he wrote about mental illness called Maya the Psychic, last Wednesday in Toronto.
https://www.youtube.com/watch?v=T-FhVwfyksA
Here is the studio version of Maya the Psychic…
…and the lyrics if you want them.
If the show wasn't amazing enough, he stayed after the show to sign things and meet fans. I got him to sign my Hesitant Alien CD and he gave me a hug and it was wonderful. Truly one of the best days of my life.